Passport for life
Youth Exchanges in Himara, Albania,
16.09.2014-25.09.2014
Topic: "Passport for Life"
Project Objective: To understand the importance of sports in our daily routine.
Organizers: Point, Czech Republic
Host Organization:  Youth Center Borderless, Albania
Participants: Czech Republic, Slovakia, Romania, Turkey, Macedonia and Albania.
Activities:
Activities implemented were based on informal education. They aimed to break the ice between participants, strengthening the role of the group as well as information about the social elements of the sport. Other activities mentioned training for sports such as free diving, yoga, realization of short films to promote sports etc.. During youth exchange activities were carried out with different social nature tourist visit to the Castle of Ali Pasha in Porto Palermo, education workshops about sports, Karaoke Night, ... Oscar Night .
Participants to increase the impact of the completed project, organized also different additional activities to Himara community. One of these activities was the center of Himara FlashMobi conducted in the framework of the European Week of motion "Now we move" dated 20 September 2014 Participants improvised in a span of 5 min different sports like football,volleyball, badminton and yoga. FlashMob drew the attention of the community and had a positive impact.
Later, the sequence of activities in the city high school, "Spiro Gjiknuri", where hearty thank the Director of this school znj.Vana Todhri for cooperation. Students at the school were introduced to the opportunities offered through Erasmus Plus. During this activity was also screened films made ​​during the project, making open discussion on the topic of youth sports.
The project was finalized with Oscar night, in which the prizes for Best Film, Best Actor, as well as some supporting prices.
We are extremely happy to announce that even this time all together we made it. We worked hard,had fun, did a lot of networking, cooperated as a team and gave our best to involve the community and once again we invite you to join us in other activities.
 Here there are some pictures: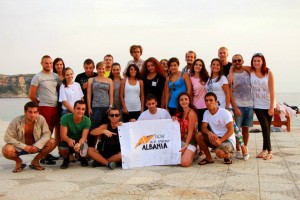 Here you can find some links about the videos of the activity:
For more information you can check the link below: